Assalamualaikum.. Ni hao. Konnichiwa. Annyeonghaseyo.
Welcome to my blog. Omedetou as you have found this blog. Yepeee~~
Minna-san konnichiwa. Genki desu ka? Ni hao ma? Nihongo o benkyou shiteimasu. Nothing much to say
about me
. Currently, I'm learning Japanese and Mandarin on my own. Just for fun and knowledge of course! Plus, I would like to talk in other language because i love to talk talk talk talk talk ......... like the emoticon below. hahahaha
Cute isn't it?
Your tongue get twisted every time you try to pronounce the sound. haha Luckily, if you're able to speak Malay, Japanese pronunciation is very much easy (even some of the Malay words is the same with Japanese)
.
Anything you want to know more? Ok, let me tell you even though you would say No. hahaha Let me arrange this in numerical order so that it is easy for me to read.
FIRST.
I love to share and document all of my knowledge and experience. So, that's the reason I keep writing many entry on this blog (even though only one post for about every 2 month.lol)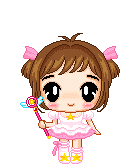 SECOND.
I love to create videos. Most of my videos related to cooking and food. Since this my help my friends and especially relatives to cook my favourite foods. lollll~~ I want to let you know that I have
Youtube account
..!!! ohyeahh~~ Do subscribe if you wish to get updated with my new cooking recipes. But sorry if i couldn't upload the new video since i'm bit busy with other stuff also.
THIRD.
I'm graduated from Pharmacy school and so, I share those information related to pharmacy at my
Google+ account
. So, follow me there if you want to equip with some extra knowledge.

FOURTH.
If you are thinking to have your own webhosting, why not try this service. I high recommended you to try and I do give 5
☆
☆
☆
☆
☆
. Please drop by and share this to your friends. Just click in the picture below okay. (∩▂∩)
That's all. Thank you. Doumo arigatou. Please drop a comment on any of my posts if you think of anything. Jaane~